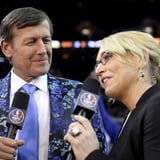 ICYMI, it's 2017, and women are making themselves known in fields that have previously been dominated by men. By far one of our favorite examples is Doris Burke, an analyst and reporter for the NBA and WNBA. The 51-year-old mother of two – who is known for taking notoriously tough interviewees to task – was the breakout MVP of last night's NBA Finals, earning the adoration and awe of viewers across America.
When the Cleveland Cavaliers took on the Golden State Warriors, you bet your ass Burke was there in the midst of the action. She demonstrated her remarkable ability to remain calm, cool, and collected while asking hard-hitting questions in the midst of the post-game chaos. Take her interview with Kevin Durant, for example:
Doris may have been our favorite part of the championship game – and the internet seems to agree. Ahead, read eight on-point tweets that sum up Burke's iconic status and her poised sideline reporting skills.
Doris Burke is all the goals. Career, brains, sports knowledge, fashion, etc.

– Julie DiCaro (@JulieDiCaro) June 13, 2017
Doris Burke is the Meryl Streep of sports broadcasting #NBAFinals

– Kelly Hinseth (@kellyhinseth) June 13, 2017
Doris Burke out here conducting these interviews like a surgeon. Much respect to the legend… pic.twitter.com/61FtFMdEMo

– Camron Smith (@camronsmith) June 13, 2017
why isn't Doris Burke the president of the United States

– David Sims (@davidlsims) June 13, 2017
Broadcasting hopefuls, newbies, and gosh vets like me can learn from Doris Burke right now. This is how you do postgame interviews.

– Dana Jacobson (@danajacobson) June 13, 2017
Doris Burke is the best in the business. Just a tremendous job with this postgame.

– Jason Whitlock (@WhitlockJason) June 13, 2017
get doris burke on the case and that shit is getting solved

– Shea Serrano (@SheaSerrano) June 10, 2017
All of Sports Twitter wants to be Doris Burke when we grow up #legend

– Kavitha A. Davidson (@kavithadavidson) June 13, 2017